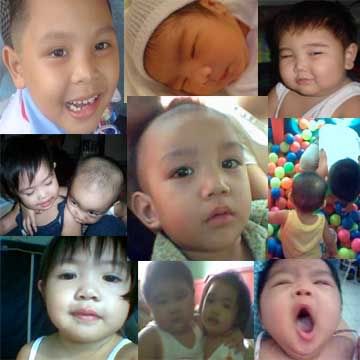 Clockwise : Joshua "Etoy" Hurgo, 5 ; Francis Coronado, 2 mos; Nel Patrick "Neicky", 2;
Nav and Etoy playing, Angelica "Chocolate" de Leon, 2 mos; Neicky and Juju;
Juliana Antonette "Juju" Hurgo, 1.7; Juju and Nav;
Center : Nathanael "NAV" Bunsoy-Visca
There has been a great harvest of babies in our clan. If it isn't my youngest tita,
my cousins would be giving birth or their wives getting pregnant.
Angel – Niece. Just last Sunday, Angelica(the baby yawning at the bottom left) was baptized.
My mom calls her Chocolate. Yep, as in Chocolate the comedianne.
She's not that dark , reddish actually. Hehe.
Etoy – Cousin. My bf's tukayo. That's why i always tell him 'I love you, Joshua'. Teehee.
Juju – Etoy's younger sister. This little angel is my cousin and goddaughter. Very pretty.
I just noticed that she's acts a lil tomboyish. She's not that pagirl
unlike the other girl babies I know. Brusko ika nga.
Francis – the baby is based in Canada together with his parents. His dad is younger than me
so I was shocked when I found out he's gonna have a baby. So soon.
The father was just a little boy when he left the country and now he's a dad. Darn.
He was named Francis because he has the same birthday as our Lolo Kiko.
Neicky – oh this cute little pig. Just the other day, i found him at my cousin's place
eating pancit canton. He won't stop. Maaan, walang tigil talaga sa lamon.
Yep, he doesn't eat. He does only know lamon. Hehe. My cousin told me it's actually the
boy's second plate. Meaning, he already consumed 1 plastic of lucky me plus that one
plate he was eating.  Give him anything and he'd gladly take 'em. Takaw!

Nav – the Bunsoy-Visca's first baby. I love this boy so much. He's my very smart Nephew.
He can say and do a lot of things now. Very talented. You'll be amazed by how he can sing and dance.
Sumusunod sa galaw talaga. He's also fond of instruments. I know he'll be a great musician someday .
Having great singers for his parents, the boy is musically inclined.
He knows how to strum the guitar and play the drums….nasa timing.
He'll be my future kids' kuya. Hehe.

So when's the next baby coming out? And whose baby?
Hopefully , my sister's. I want another pamangkin. Haha!